Guaranteed Payday Loans for Bad Credit – 100% Approval?
Borrow £250 to £3,000 by †
Bad Credit Accepted
Fast Payout
No Fees
Secure Application
Short Term Loans
£250 – £3,000
---
N Online decision
N Responsible lenders
N Rates from 278% to 1576% APR*
N 3-12 month repayment
Personal Loans
£1,050 – £3,000
---
N Whole of Market panel
N Trusted panel of lenders
N Rates from 5.7% to 278% APR*
N 3-36 month repayment
Representative 481.6% APR.
Representative example: £500 borrowed for 5 months. Total amount repayable is £991.85 in 5 monthly instalments of £198.37. Interest charged is £491.85, interest rate 238.1% pa (variable).

Guaranteed Loans
Key Features
These are actually high acceptance loans designed to help in an emergency.
They can take the stress out of borrowing money if you've been refused elsewhere.
They can be an option for people with a bad credit history, though everyone still undergoes eligibility checks.
Guaranteed loans refer to payday loans with high approval and where the customer is guaranteed to get a loan offer and money when they apply. This is commonly searched for by people with money problems looking for loans for very bad credit, who might have been turned down by traditional lenders and banks.
Whilst a loan can never be 100% guaranteed, we proudly work with all the best direct lenders in the UK and will help maximise your chances of getting the loan you need.
If you are looking to borrow some money, our lenders allow you to borrow up to £10,000 repaid over 3 to 36 months at a favourable interest rate, giving you the choice and flexibility to borrow for as long as you wish and repay early if you want to.
There are no fees for applying and an application takes less than 5 minutes to be completed. You will receive an instant decision on screen and if you would like to proceed, customers will typically receive funds within 1 hour or the same day of applying.
Borrow anything from £100 to £25,000 today.
Quick online application takes minutes.
Benefits of a Guaranteed Loan
| | |
| --- | --- |
| Instant decision | There's no waiting around to see if your loan enquiry has been successful, you can find out right away. Our lending panel will give you an immediate decision and have a competitive high acceptance rates which makes our service so popular throughout the UK. |
| Same day funding available | Need a fast loan today? In some instances you can borrow money in just 15 minutes. Of course this is dependant on amount you would like to borrow and the specific terms of the UK direct lender, though in most cases you can receive you loan on the same day to avoid waiting. |
| No guarantor required | Keep your financial situation private and keep control of the loan without using a guarantor. There are several loan options available nowadays that do not need another party to co-sign giving you the freedom to manage your lending yourself. |
| Working with direct lenders | Our access to a leading panel of UK direct lenders ensures you'll only be dealing with companies that are reputable and trustworthy. Each loan you enquire about will be tailored to your own individual needs and we do everything we can to ensure your guaranteed loans application is likely to be accepted. |
| No credit check options available | If you've been searching for a way to borrow with no background check then you may be in luck. We specialise in connecting people with lenders that can help them. Some lenders will likely perform what is know as a Soft Credit Check which is far less intrusive than a traditional full check. |
---
What Are Guaranteed Loans?
They are actually loans that offer a high acceptance rate, however there is never actually a 100% guarantee you will qualify. Though lending criteria may be slightly more relaxed than with other loan types, you will still have to meet eligibility and affordability requirements as part of responsible lending. They can be a popular method of obtaining funds for those with poor scores or those with no guarantor.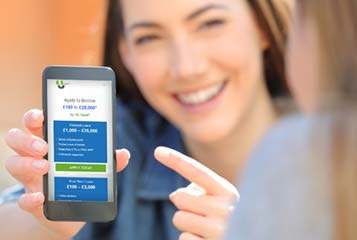 ---
How Can I Get One?
100 percent approval loans are usually reserved for individuals with a regular income and strong credit score. This suggests that you have a practical way of paying off your loan each month and have demonstrated your ability to repay loans and bank cards on time in the past. From the lender's perspective, this makes you a low risk to give money to and therefore more likely to be guaranteed than not.
Despite a regular income and a good credit rating, you can still have lots of debt outstanding – so finding the balance between your monthly income and expenses is something that the financial body will take into consideration when confirming your eligibility.
---
Can I Get a Loan with Poor Credit?
Yes, if you have a poor credit history, adding some valuable security to your loan can also help you get guaranteed loans – such as securing the loan against a vehicle (otherwise known as a logbook loan) or adding a guarantor with a strong credit rating (known as a guarantor loan). This will improve your chances of acceptance and help you get the money you need today.
---
Payday Loans No Credit Checks?
Yes, there are some forms of payday loan with no credit check, where financial lenders we work with consider other factors. For example, some of the lenders that off guarantor loans and logbook loans do not carry out credit checks as part of the application process.
Instead, they look at the profile of the guarantor or the value of the vehicle to determine your eligibility. You will need a regular income, usually through your work, in order to accepted for payday loans no credit check.
If you are looking for an unsecured loan or personal loan, this will involve a credit check and be key to get accepted.
---
Can I Get a Loan Without a Guarantor?
Yes, this is available provided that you have adequate collateral to use as security for your loan or a strong credit rating. We appreciate that not everybody wants to add a guarantor to their application and have another individual involved in their finances.
For logbook loans, having a car, bike or van that is less than 7 years' old and in good condition can be used as security to borrow £500 to £50,000.
Otherwise, if you can build up your credit score and have a stable income, you can improve your chances of being accepted and there is no guarantor required for your application to be successful.
Don't wait! Get an instant decision now
Compare high acceptance UK Direct Lenders
Apply for Payday Loans From Direct Lenders
At UnsecuredLoans4u, we work with direct lenders only, so that your application will be processed by lenders authorised and regulated by the Financial Conduct Authority (FCA) from start to finish, and no other middlemen involved. Many customers prefer this approach, so that after they use our service and find the best loan provider, they can work with the direct lender every step of the way – from getting approved, receiving the funds into their bank account and making repayments.
This can offer the customer peace of mind knowing that their financial data will not be passed on to multiple companies and there are no broker fees or administration fees involved.
---