Do Guaranteed Approval Payday Loans From Direct Lenders Exist?
Borrow £250 to £3,000 by

15:14PM

†
We Cater For All Types Of Credit History So Don't Worry If You Have Poor Credit! We Can Find A Solution For You! Our Application Process Is Easy Start To Finish!
Bad Credit Accepted
Fast Payout
No Fees
Secure Application
Short Term Loans
£250 – £3,000
---
N Online decision
N Responsible lenders
N Rates from 278% to 1576% APR
N 3 – 12 month repayment
Personal Loans
£1,050 – £3,000
---
N Whole of Market panel
N Trusted panel of lenders
N Rates from 5.7% to 278% APR
N 3 – 36 month repayment
Representative 481.6% APR.
Representative example: £500 borrowed for 5 months. Total amount repayable is £991.85 in 5 monthly instalments of £198.37. Interest charged is £491.85, interest rate 236.1% pa (variable).

Direct
Key Features
A guaranteed payday loan actually refers to a high approval rating… there is no such assurance in the loan market.
UK direct lenders are far more likely to lend money than they were even just a few years ago.
Even if you have a bad credit score or no guarantor available there's a good chance you can lend.
Understanding the broker role in an application is really important to know if it will be a perfect fit for you. Brokers come in two sizes one the fee charging brokers (this isn't us) these we suggest you really think long and hard about before you pay them your hard earned money, from our experience fee charging brokers don't give you any more value than the free services in the market so in our opinion you are wasting your money.
However, if you are looking to save money on a loan and your credit is poor, then you should be looking for at very good broker as this will help speed your application up brokers like ourselves have connections directly with all the lenders in the market. We require you to fill out the online application form that will then be processed into our algorithm which will then make sure your application is passed to the lenders that best suit your needs.
Having no broker and no guarantor places the full responsibility for the loan on you. That can be both good and bad, but the biggest positive is that it doesn't involve asking someone you know to handle your loan responsibilities for you. As you can guess, that can strain a relationship and make it hard to restore your friendship if your friend ends up having to pay for your loan.
---
Borrow anything from £100 to £25,000 today.
Quick online application takes minutes.
---
How Do I Apply A Loan With Bad Credit & No Fees?
First thing to understand people with poor credit are more likely to be declined for instant bad credit loans than people that have average to good credit it is all based on your previous history so credit history is really important now the good news, it doesn't mean you can't or shouldn't be applying for a loan it couldn't be easier you need to make sure you have all your personal details to hand as lenders will require it. Remember a lot of people in the UK suffer from bad credit there are many lenders that are set up to cater for people that suffer with poor credit.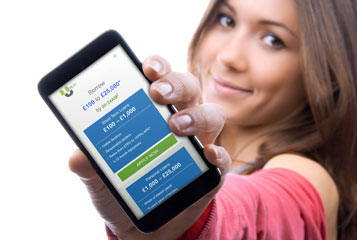 ---
What Are Payday Loans No Fees No Guarantor No Brokers?
They are loans that are provided to borrowers who are interested in three things: no fees, no guarantor, and no brokers. No Fees isn't really going to happen you need to understand that lenders are there to make money and the interest they charge represents the risk they have with lending. One thing you can do to help your interest rate is use a guarantor to agree to guarantor the payments to the loan company as a general rule this brings down the APR but definitely worth checking. No Broker – Well this seems to the most popular search term No Broker we understand why people have a problem with brokers this goes back many years to where the broker market was like the wild wild west everyone charged a fee and provided a very poor service. Now its all different the FCA regulate the market very tightly this has resulted in the market being cleaned of all the bad brokers 99% of the brokers left are free of charge services like this.
| No Debit Card Payday Loan | Payday Loan Not Broker |
| --- | --- |
| Bad Credit Direct Lender No Fees | Direct Credit No Brokers |
| Best Direct Payday Lenders Bad Credit No Brokers | Direct Lenders UK No Fees |
| Payday Loans No Credit Check No Brokers | Short Term Loans No Credit Check |
| Very Bad credit Loans No Brokers | Loans For Bad Credit No Guarantor |
| Bad Credit Loans No Guarantor | Loans No Guarantor No Credit Check No Broker |
---
What to Expect From Bad Credit Loans If You Decide On No Broker
Bad Credit Loans with No Broker – What are they really?
Can Bad Credit Loans with No Broker save you money today?
No Credit Check – Do Bad Credit Loans make it possible to skip it?
Help you with finding the best Bad Credit Loans with A Broker.
A step-by-step walk through of the Bad Credit Loans application process.
Advice on keeping up with Bad Credit Loans repayments.
---
How Very Bad Credit Loans No Guarantor No Broker Are Right For You?
Bad credit loans with are perfect for those of us that have a poor history or bad credit score and these days in the UK were very lucky with the emergence of free of charge brokers. We all know having bad credit can really hold you back from getting the finance that you need, luckily bad credit loans can be a lot easier to get these days than they were before due to brokers that have connections with all the lenders in the market rather than just one. The Process is simple Bad credit loans look at you as a person and your income instead of focusing on your previous contracts or experiences, you do need to be aware that this will result in higher interest rates as the lender understands you have a poor credit history but needs to protect their interest.
---
Why Bad Credit Loans Becoming So Popular?
It is very common in the modern age for people to be living month to month with the money they have on hand from their monthly payslips and this is where bad credit loans with come into the equation. Many people turn to guaranteed payday loans and other kinds of lending to fulfil their financial needs but with so many people applying to such companies they can afford to take less risk and deny those with bad credit this is how the payday loan market was born. Obviously, this can make things very difficult for those that have a poor credit history, and especially if their bad credit is not their fault. There are so many ways to end up with a poor history and many of them are not the customers doing.
What Should I Do?
Bad credit loans using a broker can offer these people a release from the financial constraints that have been put upon them by the banks. You will need to decide if you want to use a broker in this situation as touched on before using a free of charge broker can have some huge benefits. The main benefit is having to only visit one site to start your application if you don't go through a broker you will need to visit each lenders site directly yourself, this is time-consuming and extremely tedious, this is where brokers come into there own you only need to fill out our form once! We will filter your application and pass it to the lenders that best suit your needs this will result in a much higher chance of getting the loan you want.
---
Don't wait! Get an instant decision now
Compare direct guaranteed payday loan Lenders
Do Lenders Approve Loans Without Credit Checks?
A lender has the right to set whatever criteria for approval they want to within reason and the bounds of the law. A credit score is a criteria that banks stick to, so they reserve the right to deny applications based on bad credit. They consider this as a method of protecting themselves from non-payments but fail to acknowledge that not everyone with bad credit is a risk.
This is where these lenders come in who often need a broker to be involved. They know how to correctly calculate the likeliness and ability of someone when it comes to making repayments they often like to use a guarantor as this will help them guarantee their money. When lenders look at an application for someone with bad credit they base it on a consumer's current income stream and work out how much they could afford in repayments. This leaves the consumer with still enough money left over to survive if they are approved and an opportunity to pay off a bill or settle a pre-existing debt they have to make sure that you are not put into hardship.
Because the loan application criteria is predominately based on someone's level of income, lenders are able to make an accurate assessment in regards to their ability to make repayments. In fact, the majority of people who get fast direct lender loans are capable of making the repayments; they just need a lender who is willing to approve them. This is why credit checks can sometimes be classed as irrelevant and how these lenders are able to approve these types of loans.
---
Understanding The Best Loan For You
Very bad credit loans with no guarantor are relatively common. it is very common for people to have a bad score, whether it be because of poor financial decisions at a younger age or a different period of your life or because of other circumstances. This shouldn't hold you back from the future you deserve.
You may think that these kinds of lenders will be hard to find but it is actually very simple, you don't have to search for all those terms to find these loans. We provide all the services needed to find out if you are illegible for such financing. We are able to provide people with very bad credit a variety of loans with no broker shark or guarantor involved.
There will be instances where having a broker and can be beneficial to you the customer. Having us in the mix won't add any cost for the borrower when looking for the cheapest loans, it's an efficient way of doing things. As an independent broker we have a purpose and there are advantages to having us involve; we are entirely dedicated to saving you money and finding you the best-suited plan for your needs. We can help you source loans from several different lenders at once, saving you money and finding the best loan to fit your individual situation. We also improve eligibility, helping you sort through what's available to find a loan you would be approved for.
---
Simple Online Loan Application
All you need to do to get your Bad Credit Loans using use the Broker is to submit a simple online form.
The amount that you can apply for can vary massively for each person and what their needs entail but we aim to help you find the plan that suits you best in this process and thus will be great of convenience to you and your situation. You can apply for up to £25,000 for up to 5 years, situation dependent. The loan can be customised as per your needs so that you will be greatly satisfied with the outcome.
There will not be any upfront fee. The application will be processed without any processing fee. There is widespread range of long-term lenders in the market. The chances of approval can be very much enhanced by choosing the right service provider. You should mention the loan amount, term and purpose so that you can manage a loan without any issues.
You can get a quick quote by filling the online form. If you turn to the right source for help, you will get accurate information and the loan can be applied very easily. Even though physical cash is not provided, the amount will be credited into your account almost immediately upon a successful application.
Getting this type of loan is so simple, and the whole process has been streamlined by the lenders to make it as easy as possible for you. All you need to provide is adequate identification supported by documentation outlining and proving your income. This can be in the form of payslips and bank statements which you should easily be able to obtain. Once you have all of this together, you can go and make your loan application. Most lenders will want to see that you are working full-time, and the more money that you earn, the higher your borrowing power will be. The application process is incredibly straightforward, and your lender will walk you through it. Should you meet the criteria, you can be approved very fast for a bad credit loan and have access to the funds within a very short turnaround time all done.
---
More Bad Credit Guaranteed Lender FAQs
---
Do loans come from direct lenders?
Yes! Direct lenders will provide any loans that are applied for, so you will be able to contact them if you have any queries or concerns regarding your product, its repayments and any other concerns. As a result, you will be able to enjoy total peace of mind when applying.
Is it easy to apply?
It most definitely is! In fact, you will be asked to complete an online application form. This means that you won't have to visit a physical location and fill in endless pages of paperwork, only to find out your application has been declined. The online form usually takes applicants 5 minutes or less to complete.
How quick will my funds be available?
After completing and submitting your online application form, you will normally receive a decision regarding whether it has been approved or not virtually instantly. This means that you will no longer have to wait hours or even days to find out if you will be able to obtain that much needed cash or not.
How much can I apply for?
The main factor that will determine the amount of money you will qualify to borrow is your current level of income. You will need to disclose your full income as well as all expenses that you cover each week or month when applying for bad credit loans. Lenders will not want to provide you with more money than you will be able to repay comfortably.
Will I pay interest?
When you apply for bad credit loans that guarantee approval and are provided by direct lenders, you will pay some form of interest on the money that you borrow. The amount of interest you pay will depend on how long you'll need to repay your loan, how much cash you borrow and the lender that assists you with funds. Your lender will inform you about the interest rate being charged when you apply for your loan.