Guaranteed Instant Payday Loans
Borrow £250 to £3,000 by

15:14PM

†
We Cater For All Types Of Credit History So Don't Worry If You Have Poor Credit! We Can Find A Solution For You! Our Application Process Is Easy Start To Finish!
Bad Credit Accepted
Fast Payout
No Fees
Secure Application
Short Term Loans
£250 – £3,000
---
N Online decision
N Responsible lenders
N Rates from 278% to 1576% APR
N 3 – 12 month repayment
Personal Loans
£1,050 – £3,000
---
N Whole of Market panel
N Trusted panel of lenders
N Rates from 5.7% to 278% APR
N 3 – 36 month repayment
Representative 481.6% APR.
Representative example: £500 borrowed for 5 months. Total amount repayable is £991.85 in 5 monthly instalments of £198.37. Interest charged is £491.85, interest rate 236.1% pa (variable).

Instant
Key Features
Instant decision loans are commonplace nowadays, with online application making the entire process faster and more straightforward.
From secured loans for bad credit to payday loans, there are a number of lending options available from UK direct lenders.
Access to fast, same day cash has made this the most popular form of lending for those that may have bad credit.
If you have experienced financial difficulties over the past few years in the UK don't worry your not the only one. It is likely that your credit took a few hits. You may not have had much control over your finances and what decisions you had to make to keep afloat, but to creditors, it looks like you are a risk. When they see your credit score and note that it's not very high, it tells them that you have made some poor financial decisions. To them, you are somebody who may not pay back their loans on time.
---
Borrow anything from £100 to £25,000 today.
Quick online application takes minutes.
---
Your Options
You should know what your options are, and yes, even with bad credit you still have some lending options available to you. There will still be lenders who will approve you for various loans.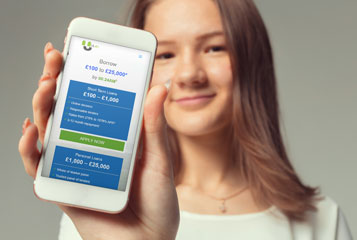 ---
Secured Loan
Your first choice may be to try to get a secured loan. This is a loan where you put down collateral to reduce the risk the lender faces by approving you for a loan. You can put down property of some sort, such as a car or house or a piece of land. The problem here is the inherent risk involved to you, as you could lose that asset, if things go bad for you.
Guaranteed Loan
Loans with 100% guaranteed acceptance often require a second signer or co-signer. This person is known as the guarantor, and the loan is their responsibility to pay. It's expected that you will pay the loan to the best of your ability, but the guarantor has to take on the responsibility of making payments, if you fall behind on your end. Usually, the guarantor is someone who has good credit and decent income, who would qualify for the loan more easily than you would.
Payday Loan
With payday loans, you can get bad credit loans with guaranteed approval from direct payday lenders. These are lenders operating apart from banks and traditional financial institutions. They offer loans to people with bad credit like yourself, and they often advertise guaranteed approval. That means that if you meet their very basic requirements, you should be approved without problem. Banks have far stricter requirements and a longer approval process, which make payday lenders the best choice for someone wanting their money fast in small amounts.
---
Being Approved
Your best chance to get approved for a loan on your own merits is through payday loans. If you apply for bad credit loans with guaranteed approval from direct lenders, then you are far less likely to be turned down than if you were to apply at any other lender.
You might think that your bank would easily approve you for a loan because you feel you are a valued member of their institution, but even their members have to undergo scrutiny before being approved. Banks are risk averse, and if your credit is poor or your income is low, then they won't approve you for a loan. You can save time by just looking for bad credit loans with guaranteed approval through direct lenders. These loans are open to anyone, no matter what their credit is, and most applicants are approved. If you feel like your bad credit is going to prevent you from getting the money you need, then you should consider this choice and apply for a loan from a direct payday lender.
---
Don't wait! Get an instant decision now
Compare instant guaranteed loan lenders
---
Instant Loan Approval for Bad Credit History
When you have a low credit score, getting cheap guaranteed loan approval from most lenders can be challenging. Great loan deals may not be available for you compared to those with good credit. However, surprising as it may be, you'll discover that many lenders still offer loans to people with bad credit. You just need to be patient with your search and do not just jump into whatever is in front of you. Take time to shop around, as there are bad credit loan options for you.
On the downside, the interest rate of these loans is quite high in comparison to regular loans that are offered to people with good credit. Unsecured loans for bad credit rely mostly on your ability to repay. This means that if you can show proof to the lender that you have a stable and sufficient income, then it's a guarantee that you will get approved. As soon as you provide the lender all the requirements, approval is almost instant. The most common type of guaranteed bad credit loan, which is unsecured, is the payday loan. It is usually limited to small borrowings, which you will have to pay back the full amount including the interest on your next payday. Hence, it is called a payday loan. Other payday loan lenders may allow installment for a few months.
You'll find 100% approval online loans, which makes them very easy and quick to access. With online banking, advancement in technology, and the internet, lenders could offer instant loans. Online services provided by lenders make the entire process of obtaining loans more convenient, speedy, and simple. Application is pretty straightforward. You simply just need to complete an application form on the website. Majority of these lenders do not run a hard credit check, which makes the entire process of finding quick lenders faster and stress-free. If you meet all the requirements, then in just a few minutes, you can get a positive feedback.
---
More Instant Decision Guaranteed Loan FAQs
---
Must I have a guarantor to apply?
In most cases, you will not need to provide a guarantor to apply for instant decision guaranteed loans these days. Lenders who provide these products understand that most individuals who apply for their products don't have the means to provide a guarantor or any other form of security.
Can I just borrow £50?
Yes! Many lenders are now willing to provide loans for smaller amounts of money because they realise that not everyone will be able to repay larger loan amounts – especially if they don't earn very much money to begin with.
What if repayments are late?
In cases where there are insufficient funds in your bank account for the lender to deduct their instalment on the predetermined dates, additional interest and/or penalty fees will normally be added on to your loan. This is why it's crucial to ensure that all instalments are repaid on time or even early wherever possible.
What interest rate is charged?
Interest rates that are charged on payday loans vary according to your personal financial circumstances, the amount of funds you need to borrow and the amount of time you will need to repay everything in full. For instance, if you require a small payday loan of around £50 and you intent repaying it in a week or two, you will pay less interest than if you borrow £500 and need 6 months to repay it.
Must I pay an upfront application fee?
Absolutely not! No reputable payday lender will ask you to provide any form of upfront payment or application fee before they process your loan request. If a lender requests an application fee, it will be best to hire the services of an alternative loan provider.