Borrow from £100 to £25,000
Complete our simple 60 second application form to get the loan you want today.
Large
Guarantor
Loans
N Whole of Market panel
N Trusted panel of lenders
N From £1,000 to £25,000
N Rates from 5.7% to 8%
N 3-60 month repayment
Small 
Guarantor
Loans
N Online decision
N Responsible lenders
N Borrow up to £1,000
N Rates from 5.7% to 8%
N 1-5 month repayment
Representative Example: Cash price £7,500. Deposit £0.00. Total amount of credit £7,500.00.
60 monthly repayments of £137.22 Total charge for credit £733.20. Total amount payable £8,233.20. Interest rate 3.8% fixed. 3.8%APR Representative.
We are a Credit Broker and not a Lender
What is a Guarantor Loan?
---
A guarantor loan is a type of unsecured loan where a third party will co-sign the agreement under the understanding that they agree to pay off the debt, should the borrower default on their agreed payments.
The way this works then, is that you might take out a loan and then ask a parent or friend to sign as a guarantor. This way, if you fail to make a repayment, then your friend or guardian will pay it for you and that way, you will not miss any repayments.
Guarantor loans are a relatively new addition to the loans market but the concept of a 'guarantor' is not. Guarantors have historically been used in a number of other financial agreements, for example in tenancy agreements. Here, a guarantor might agree to pay your rent if you should fail to make the payment on month.
APPLY TODAY
How Loans Work
So why would you choose a guarantor loan? Who is this type of loan for?
To understand the benefits of a guarantor loan, it can help to understand a little more about how loans work in general. Specifically, it's important to realize that the APR of a loan is often based on the risk that the borrower is thought to represent to the lender.
In this sense, you can consider a borrower to be much like a stock or a share. The idea is that the bank or lending company will invest money in the borrower by giving them the loan but then in theory, they should make a profit on that investment when the borrower pays it back with interest.
But if the borrower can't afford to repay the loan and ends up going bankrupt, then the bank will have lost out. Just like any type of investment, there is inherent risk.
The riskiness of a borrower will be based on many factors but the most important one is the credit history. If a borrower has never taken out a loan before, then they might be considered a risk because they have no track record. Similarly though, if the borrower has taken out a loan and defaulted on numerous repayments or been bankrupt, then they will be considered even more of a risk.
This then prompts the lender to charge a higher percentage rate in order to mitigate the risk. The idea being that they'll now be earning more from the borrowers per month, thereby increasing overall profits in order to soak up the losses incurred by customers that default on loans.
Whats the Difference from a Payday Loan
This is a very common question when it comes to this type of product, but in reality the two types of finance couldn't be further from each other. One is designed to be a short term solution designed to cover a hole in a wage package normally due to sickness or some unexpected leave where the other is designed to be spread over a long term and normally for much higher amounts. This is why there is another person added to the agreement this is so the lender feels more confident about lending such a larger sum of money as your previous credit history was poor.
The process from start to finish couldn't be any easier first step is to fill out your details on our application form you will then be processed and passed to the lender that best suits your needs, this is where your need to add the third party details our application process takes on average about 90 seconds we make it very simple.
What Checks Will be Carried Out?
This will depend on the financier themselves but as a general rule all will check your past credit history 99% of people that apply for this type of money have poor credit so its to be expected so dont panic! this is why you are guaranteeing the monthly payment using a third party the lender as a general rule will want to speak with both parties and do an income and expenditure for both parties to make sure there not putting anyone under strain with these payments. On some occasions the finance company may pay the loan out into the third parties bank account this is to make sure nothing untoward has happened through out the application it protects them and the third party. All banks or private lenders must follow a code of practise this is found here www.fca.org.uk if you ever have any problems with them you are well within your rights to report them here and they will deal with any issue.
FAQ
As this is a rather unique product it tends to come with a few different questions so i will try and cover some of the most popular ones now.
Can i settle it early?
Yes you can this type of finance works the same as any unsecured type of finance if you settle the agreement early you will receive and interest rebate. Which basically means you wont payback the full about of interest you will only pay the amount upto that date.
I have bad Credit!
Don't worry bad credit is very much what this product is designed for, this is why there is a third party on the agreement with you there whole role is to guarantee the monthly instalments this gives the finance company confidence that the monthly payments will be met without an issue.
 Will i get credit checked?
This falls inline with the question above but the short answer is yes, does the score matter? Not really this is why you have a third person on the agreement as you already new you had a poor past history.
 How long does it take.
If you have everything in order ie a guarantor ready then the whole process can be extremely fast often application are done within 24hrs obviously if you don't have a guarantor ready to do there part then it will inevitably take a bit longer.
How Do You Work?
We try to keep the whole process as simple as humanly possible for you, as i said before our application process is refined and only takes a couple of minutes from start to finish. The panel of lenders is constantly checked and refined to make sure you are only seeing the best products in the market if the provider has problems with there service or there rates are to high we will not be putting you forward to them. There would be no point passing you to someone that would just decline your application before having a good look into your app properly especially with this type of product, sadly this used to be a major issue but not any more all our lenders will review your application before making a decision.
Our site is completely free to use and we will never charge you a fee for using our service. Our website is on an secure server (https) which adds an extra level of encryption so that your data and cookies are extra safe. We are pleased that you have chosen our website and hope that you can use our comparison service efficiently to find the right loan for you.
Who Could Be A Guarantor?
---
This is obviously one of the most crucial parts of the whole application process, its important to find the best person possible to guarantee your payments as without a good guarantor you may struggle to get this type of loan, this is because this type of finance is geared around the 3rd party on the agreement having a good past as yours isn't quite as good. This is why even with poor credit you can still borrow upto £10,000 this would be possible in any other type of finance.
Family Member, Friend of College.
This is obviously a responsibility for someone to take on so this isn't suitable for your mate Dave that you met down the pub one Saturday night it needs to be someone you trust and is there to help you should you have problems. It can even be your partner as long as they can afford it and will guarantee your payments it doesn't matter how they know you, they just need to understand the roles and responsibilities providing a guarantee to payments entails. Remember it will take the third parties consent to get your application approved so i suggest you have a good chat with them first and make sure them understand there obligations.
How does this affect you?
This whole process has two benefits obviously you get the money you need but it will also help you improve you credit file on a monthly basis, this will improve your score each time you or the third party make the instalments hopefully by the time the agreement has been settled your score would have improved enough for you to be able to get the required finance your after without the need for a guarantor to guarantee your monthly payments.
Who cant be a guarantor?
It does kind of go without saying but if the person who wants to guarantee your payments has a poor credit history themselves they wont be suitable, this is also the same for anyone that has previously been bankrupt even if its now discharged unfortunately lenders will not accept them.
If they live abroad or don't have an income in the uk unfortunately there very unlikely to be accepted, and finally its worth noting if you lie or the third party lies on any part of there application this can really affect your credit worthiness.
APPLY TODAY
The Benefit of a Guarantor
If you are an inexperienced borrower, or a borrower with bad credit, then you might find it is very hard to find a loan. If you do find a loan, it will likely be a 'bad credit loan', meaning that the rates will be increased to reflect this.
Tell Me More….
This is similar to a secured loan, which is a type of loan that is secured against an asset – such as real estate. If you don't own a property though, or if you don't want to risk losing your home; a guarantor loan is a better option.
Why A Guarantor….
It's your job then to demonstrate to lenders that you aren't that much of a risk – and one way to do that is with a guarantor. With a guarantor, the lender now has a guarantee that they will get their repayments – even if they don't come from you.
Whats Needed….
In most cases having a guarantor with a proven good credit history will reduce your monthly payments and be able to ensure you get the amount you have applied for.
The Perks….
Your guarantor this is someone that will guarantee your payments to the company on a monthly basis by using a guarantor you're more likely for a lender to accept your payments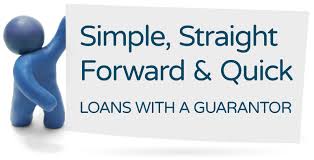 Finding Your Guarantor
Of course the next challenge is finding someone who is willing to be a guarantor! But hopefully, if you are taking out a loan, then that means you should be in a position where you know you'll be able to make all the repayments on time. You might not statistically seem like a good bet on paper but hopefully you will find it a lot easier to convince a parent or a close friend that you are not a risk and that way you can get a loan even when no one else would otherwise give you one.
There are many different types of loan and ways to get them. If you absolutely need the cash, then you will almost always find that there is a way. However, as always, the responsibility lies with you to make sure that you aren't taking on more than you can afford to repay. And of course this responsibility is even greater when you are involving a third party who is trying to do you a huge favour.