Borrow £100 to £25,000*
by †
Bad Credit Accepted
Fast Payout
No Fees
Secure Application
Short Term Loans
£100 – £1,000
---
N Online decision
N Responsible lenders
N Rates from 278% to 1576% APR*
N 3-12 month repayment
Personal Loans
£1,000 – £25,000
---
N Whole of Market panel
N Trusted panel of lenders
N Rates from 5.7% to 278% APR*
N 3-36 month repayment
Representative example: £500 borrowed for 5 months. Total amount repayable is £991.85 in 5 monthly instalments of £198.37. Interest charged is £491.85, interest rate 238.1% pa (variable). Representative 481.6% APR.

What to Expect in Cash Converters Logbook Loans
Key Features
A logbook loans can be the perfect way to release money from your car's value.
Fast online application and a high acceptance rate makes them a popular way to lend.
Bad credit is considered so long as you own the vehicle and it has no finance in place.
In this day and age, quick, short-term loans operate in an industry that has experienced significant growth amidst tough economic times. Banks and other traditional financing institutions are still turning down applications of low-income individuals and when the ordinary working man can't rely on these institutions to aid him in his time of dire financial need, he turns his attention to the short-term loan market with plenty of lenders willing to cater his needs. And if there is any company offering short-term credit that has made the most significant impact in the industry, it would be Cash Converters.
In 2011, the Australian based company has enjoyed a record high in profits of £17.7 million, with its log book loans service ballooning to a 746 % growth (£5.0 million in recorded profits). The company also has plenty of stores operating in Britain, granting financing services to countless people in the UK.
---
Borrow anything from £100 to £25,000 today.
Quick online application takes minutes.
---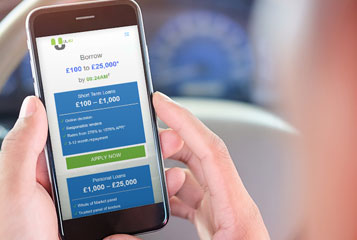 ---
A History of Success
The internationally acclaimed company started operating in 1984 under the leadership of Brian Cumins and a group of partners who came up with the brilliant idea of converting second hand goods stores into professional retail outlets. For four years, the company operated 7 outlets in the Perth area in Western Australia and has now expanded in over 20 countries worldwide including the United Kingdom, South Africa, Canada, United States, and Spain. The company provides a wide range of services that can be catered by different people from all walks of life in need of short-term financing to address certain financial needs.
With its sleek, fresh looking stores, customer friendly workers and management practices, effective retailing techniques, and a strong commitment to excellence and ethical standards, the company has become one of the best and most sought after in the UK's log book loan market.
---
Cash Converters Logbook Loans
The company is primarily involved in buying and selling of second-hand goods, pawnbroking, gold-selling services, and short-term loans. It does not directly provide logbook loans to its customers, though, but has a network of lenders and partners that provide a wide array of affordable loan rates and competitive services. All you need to do is to fill up the company's application form that takes less than a minute to accomplish and you will receive a logbook loan quotation personalised to match your requirements. The service they provide is free of charge and any form of obligation which means you don't have to pay any kind of fee upfront for using it and you are free of any form of obligation whatsoever if you do not accept the quotation that they give you.
---
The Key Benefits
If you want to take out a logbook loan from Cash Converters and its network of lenders and partners, here are the key benefits that you will enjoy.
No Fees and Obligations – Just as I mentioned earlier, you are free of any form of charges and obligations if you decline any of the loan quotes that the company provides. Other companies would charge their customers upfront even if they don't avail on the loan service and this is something that you don't want from an indirect lender. And besides, who would want to pay for a service that he is not going to use anyway? Indeed, this feature just proves that Cash Converters is true to their commitment in maintaining high ethical standards in their business practices.
---
Instant Payouts
Payouts are quick and instant when you avail for a logbook loan with cash converters. If you have provided all the necessary requirements and have met the company's eligibility criteria, you can receive the money that you availed for in the same day that you made your application. When you apply online, a representative will cater your application immediately to guide you on the necessary steps in taking out their credit service.
---
Don't wait! Get an instant decision now
Compare logbook lenders today
---
24/7 Service
The company's online store is ready to cater your financial needs 24 hours a day 7 days a week allowing you to enjoy a free quote anytime, anywhere that suits you. And with a highly responsive staff to help you throughout the entire process, you will experience a genuinely effective and convenient way of taking out a loan.
---
Car Utility Freedom
Once you have met all the requirements and have been approved of their service, you will not only receive the money that you need and spend it on whatever you want, but you will still have the freedom to drive your car through the loan repayment period.
---
Flexible Amounts
Depending on the value of the car that you offer to secure the loan, you can borrow as much as £50, 000 with Cash Converters. Normally you are allowed to borrow up to 50% of the value of the car, but can go higher depending on your needs. And if you are looking for something less, you can still borrow in as little as £500 and any amount up until £50, 000. The company's loan amounts are flexible and you are sure to find one that you are comfortable taking out.
If you are looking for a financing partner that will help you secure a satisfying logbook loan, then you might want to consider a reputable company like Cash Converters. The company is known for its high standard and ethical business practices and customer friendly services and taking out a loan from such a highly renowned company will surely be one of the better decisions that you can make.